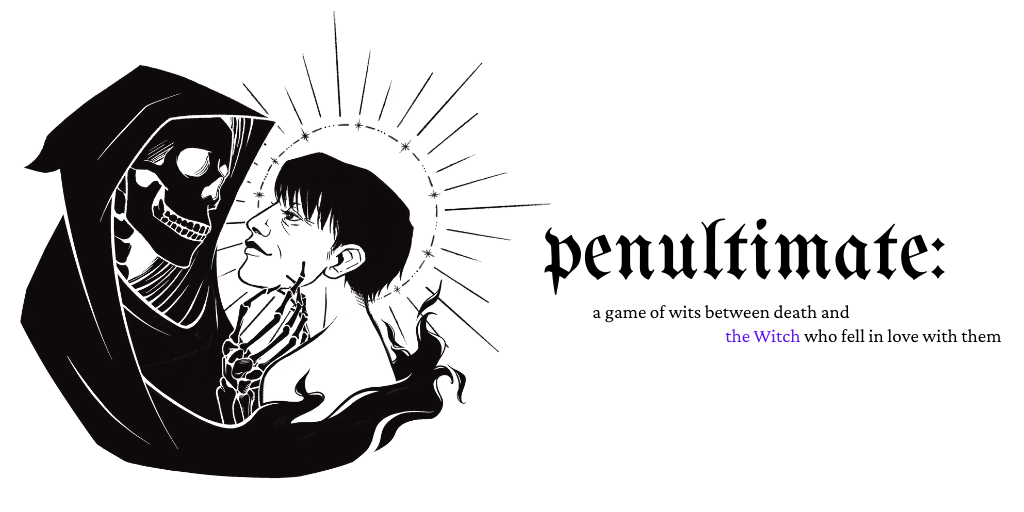 penultimate:
A downloadable feverdream
you are the Witch, mightiest
of their kind.
you are DEATH, most feared
by all mortals.

you have danced and danced and
danced, but
the wick burns down for one of you,
and this macabre love affair cannot
last.
~*~
penultimate: a game of wits between death and the witch who fell in love with them is an intimate feverdream for two players.
the Witch and DEATH have had the mightiest of love affairs - but it all ends today. what will you say before the Witch succumbs to their mortality? how long can you extend your final moments together?

~*~

the black, white, and purple pdf features original art by illustrator jessie weirich. the plain text version (.txt) includes alt-text descriptions of said art.

pending funding, an audio version of this feverdream may also be available in the future.
for each copy of penultimate: purchased, another community copy will be added to the pool.

~*~
this feverdream delves into dark places. please play using safety tools (see the ttrpg safety toolkit) and with respect/trust in your fellow players.
the ttrpg safety toolkit is a resource co-curated by kienna shaw and lauren bryant-monk. the ttrpg safety toolkit is a compilation of safety tools that have been designed by members of the tabletop roleplaying games community for use by players and gms at the table.

Purchase
In order to download this feverdream you must purchase it at or above the minimum price of $13 USD. You will get access to the following files:
penultimate plain text (.txt) (1.2)
6 kB
Community Copies
Support this feverdream at or above a special price point to receive something exclusive.
community copies
if you are marginalized and unable to budget for penultimate: due to your financial situation, please feel free to claim a community copy <3

for each copy of penultimate: purchased, another community copy will be added to the pool.

Comments
Log in with itch.io to leave a comment.
this game is absolutely amazing oh my goodness
This is amazing! Quinn does lovely work <3 Thanks for making this! :)